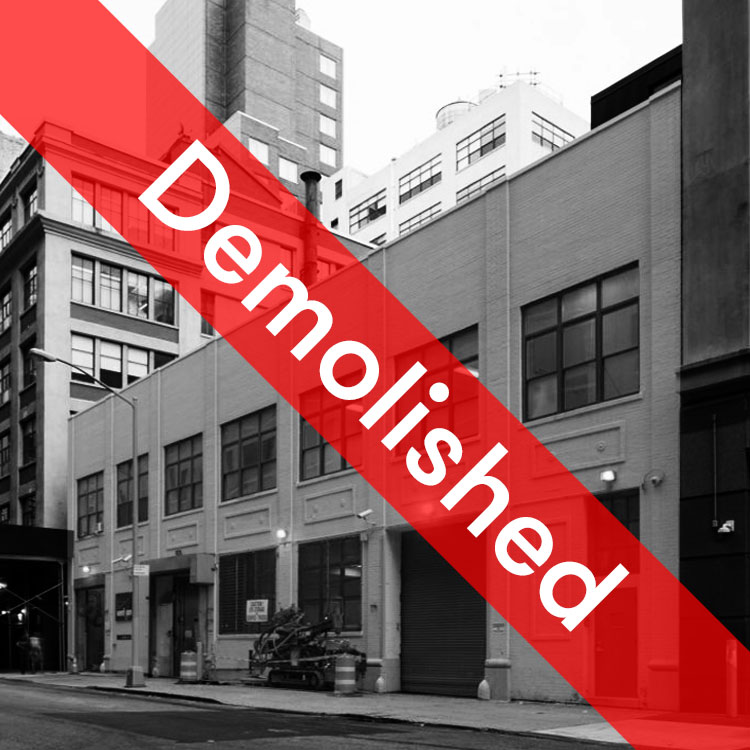 84 King Street
Manhattan
Paradise Garage
overview
Between 1977 and 1987, the Paradise Garage was one of the most important and influential clubs in New York City with a devoted patronage comprised of sexual and ethnic minorities (primarily African-American gay men).
With resident DJ Larry Levan and other DJs as the center of attention, it influenced dance, music, and culture both nationally and internationally as the birthplace of the modern nightclub.
The building was demolished in 2018, becoming the first loss of an LGBT historic site featured on this website.
Header Photo
History
Paradise Garage was a semi-underground club focused solely on music and dance. Unlike many other clubs at the time, it was membership only – not open to the general public. Moreover, it did not discriminate among its membership based on race, class, or sexual identity.
Sole proprietor Michael Brody, with financial backing from former boyfriend Mel Cheren, opened the club in 1977 as the 84 King Street Garage with a series of "construction" parties as the renovations continued for a year. DJ Larry Levan (born Lawrence Philpot) worked with Richard Long of Richard Long & Associates to develop, design, and assemble the award-winning sound system that was considered the best in New York. It officially opened as the Paradise Garage on January 28, 1978.
Only open on weekends, patrons entered the club through a first-floor garage door entrance and walked up a long ramp to the second floor. The 10,000-square-foot space was divided into a 5,000-square-foot dance floor, which could accommodate 2,000 people, and a 2,000-square-foot lounge. The club served no alcohol – or food – allowing it to stay open after bar hours, often until noon the next morning.
Levan chose records that sustained all-night dance marathons and changed the sound of dance music. Songs he played soon showed up on the radio and were featured at New York's Vinylmania Records. His musical influence spread to dance clubs across the United States and Europe, and is recognized as a precursor to house music.
In April 1982, the recently formed Gay Men's Health Crisis (GMHC) held its first fundraiser, called Showers, at the Paradise Garage and raised over $50,000.  The impact of the AIDS epidemic and changes in music, as well as the fact that Brody was diagnosed with AIDS, affected the Paradise Garage. On September 26, 1987, the club closed, two months before Brody died. Today, the Paradise Garage is remembered with reverence as a unique place of social gathering and musical influence.
The building was demolished in 2018, becoming the first loss of an LGBT historic site featured on this website.
Entry by Ken Lustbader, project director (March 2017; last revised May 2018).
NOTE: Names above in bold indicate LGBT people.
Building Information
Architect or Builder: Victor Mayper
Year Built: 1924
Sources
Alan Fierstein and Richard Long, "Paradise Garage: State-of-the-Art Discotheque Sound Systems." Acoustilog, no date, bit.ly/2dOLt5I.

Ben Barna, "Memories of the Paradise Garage, From Those Who Dance There," The New York Times, May 9, 2014.

Bill Bernstein, with forward by Nona Hendryx, Disco: The Bill Bernstein Photographs (London: Reel Art Press, 2015).

Daniel Hurewitz, Stepping Out: Nine Walks Through New York City's Gay and Lesbian Past (New York: Henry Holt & Co., 1997).

"Friday Night Fever: Paradise Garage," Bowery Boys, October 5, 2007, bit.ly/2dBQDDk.

Jon Pareles, "Larry Levan, 38; His Tastes Shaped Dance-Club Music," The New York Times, November 11, 1992.

Jon Pareles, "Paradise Garage: A Gay Club That Forever Changed Night Life," The New York Times, June 18, 2000.

Tess Nicolaou, "Revisit the Glory Days of the Paradise Garage with These Amazing Photos." Pulse Radio, April 20, 2016, bit.ly/2dymoxM.

"This is the Paradise Garage," Disco-Disco, bit.ly/2dvXa6J.
Do you have more information about this site?
This project is enriched by your participation! Do you have your own images of this site? Or a story to share? Would you like to suggest a different historic site?