1 Fifth Avenue
Manhattan
Sam Wagstaff Residence
overview
As an art curator and collector, Sam Wagstaff almost single handedly drove the market in the acquisition of photographs by private collectors, art galleries and museums in the 1970s and 1980s, after his lover Robert Mapplethorpe opened his eyes to the world of photography.
One Fifth Avenue was Wagstaff's residence from 1975 until his death in 1987.
Header Photo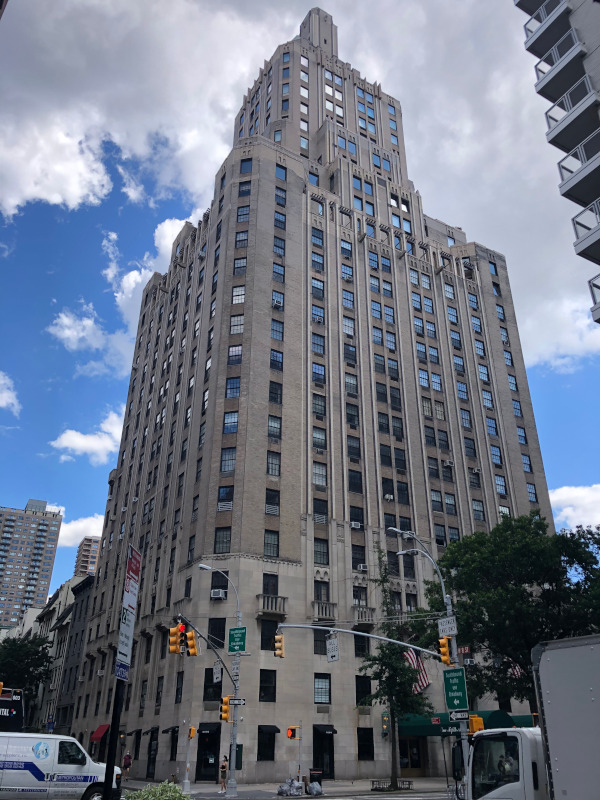 History
Sam Wagstaff (1921–1987) was born into high society. Growing up on Central Park South, his family was part of the Social Register — the index of America's upper class — and once owned the land where the Metropolitan Museum of Art is now. He attended Yale, and served in the Navy during World War II, including on a ship supporting troops during the D-day landing of Omaha Beach. Following the war, Wagstaff worked in advertising, a career that he came to loathe. Wagstaff's experience of working and living within the commercial and conformist society of 1950s America was difficult for him. Patti Smith, the punk poet and musician who later befriended Wagstaff through Robert Mapplethorpe, said, "it must have been very, very difficult if he had desires or men that he loved in the 50s, either if he had to hide his relationships or not have relationships. But I never asked him about it, because it was that painful… it was the one area that I could really sense pain in him."
Wagstaff turned to the arts in the late 1950s by studying Renaissance art at New York University's Institute of Fine Arts. After a fellowship at the National Gallery of Art, he became curator of contemporary art at the Wadsworth Atheneum in Hartford, CT, where he curated his most famous exhibition, Black, White and Grey, in 1964 — the first survey of Minimalist art. Wagstaff then worked at the Detroit Institute of Arts, coming back to New York in 1971. In 1972, he met Mapplethorpe who became Wagstaff's lover, beneficiary, and life-long companion. By 1973, the two of them were fixated on photography and Wagstaff began a voracious spending spree, amassing a collection of over 26,000 photographs.
Wagstaff's obsessive collecting of photography is responsible for the way we see photography today. At the beginning of his curatorial career, he saw photography as a lower artform — in fact he once described himself as a "loather of photography, sui generis." It was Mapplethorpe who changed his mind and opened his eyes to the world of photography.
Sam would go in the morning and by the evening would have shopping bags [full of photographs], put them on the floor of his apartment on One Fifth Avenue, which had no furniture, then he'd go out the next day and I would go upstairs and sit there all day, the most beautiful pictures lying on the floor to look at and then catalogue. It was quite a life.
Wagstaff purchased the penthouse on the 27th floor of One Fifth Avenue in 1975. This was a significant upgrade from his previous residence at 54 Bond Street in the then run-down area of NoHo, where his art collection was at risk due to faulty plumbing and a shoddy electrical system. This is the same street where he bought a loft apartment for Mapplethorpe in 1972. At One Fifth he bought a separate apartment on the 8th floor to store his art collection and kept the penthouse as his home and where he would receive collectors, dealers, and artists. One of Mapplethorpe's most iconic images, the cover art for Patti Smith's legendary album Horses, was taken in Wagstaff's penthouse.
In 1984, Wagstaff sold his collection of photography to the J. Paul Getty Museum for $5 million — an unprecedented sum for a photography collection. Wagstaff moved from photography into another widely underestimated art form — American silver; heaps of silver replaced the mounds of photographs he kept at One Fifth Avenue. Wagstaff continued to voraciously collect right up until he became too weak to do so due to AIDS. He died in 1987 and left the vast bulk of his estate to Mapplethorpe.
It is Wagstaff's relationship with Mapplethorpe for which he is chiefly remembered now. Born on the same day, 25 years apart, Wagstaff was besotted with Mapplethorpe and the two cultivated a relationship wherein mutual dependence bound them ever closer. Mapplethorpe was open about his love for Wagstaff's money, and Wagstaff found in Mapplethorpe the kind of life he had been denied throughout his conservative upbringing and professional life. Mapplethorpe opened Wagstaff's eyes to a sexually liberated life, which left Wagstaff happier and freer than he had ever been before. In an utterance to his friend Patti Smith, Wagstaff said he had loved only three things in his life, "Robert, my mother and art."
Entry by George Benson, project consultant (July 2020).
NOTE: Names above in bold indicate LGBT people.
Building Information
Architect or Builder: Harvey Wiley Corbett of Helmle & Corbett, and Sugarman & Berger
Year Built: 1926-27
Sources
Black White + Gray: A Portrait of Sam Wagstaff and Robert Mapplethorpe, dir. James Crump, Art House Films, 2007, amzn.to/2zqcGfc. [source of pull quote]

Philip Gefter, Wagstaff: Before and After Mapplethorpe: A Biography (New York: Liveright, 2015).

Paul Martineau, and Weston J. Naef, The Thrill of the Chase: The Wagstaff Collection of Photographs at the J. Paul Getty Museum (United Kingdom: J. Paul Getty Museum, 2016).

"Sam Wagstaff," Wikipedia, bit.ly/2LT9Ty0 (accessed May 22, 2020).

Deborah Solomon, "Wagstaff: Before and After Mapplethorpe,' by Philip Gefter," The New York Times, December 5, 2014, nyti.ms/3e8i4T2.

Marcus Field, "Wagstaff: Before and After Mapplethorpe by Philip Gefter, book review," The Independent, January 29, 2015, bit.ly/2yu0zxq.

Larissa Archer, "Mapplethorpe's Other Man," Hyperallergic, February 24, 2015, bit.ly/3ggJI2f.
Do you have more information about this site?
This project is enriched by your participation! Do you have your own images of this site? Or a story to share? Would you like to suggest a different historic site?