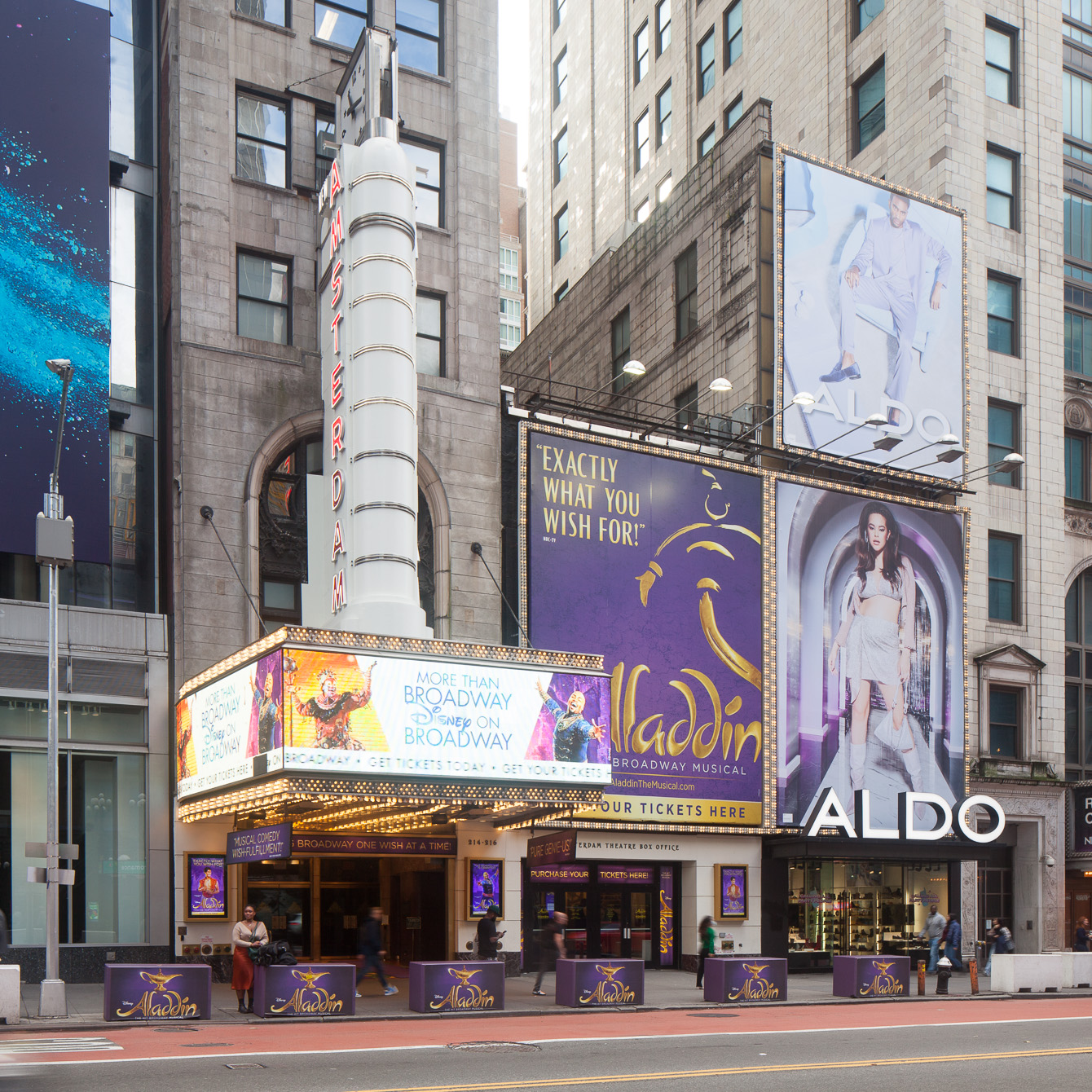 214 West 42nd Street
Manhattan
New Amsterdam Theater
overview
Opened in 1903, the New Amsterdam Theater has staged several productions involving major LGBT performers and creators, including Clyde Fitch, Erte, Patsy Kelly, the vaudeville team of Bert Savoy & Jay Brennan, Eva La Gallienne, and Marie Dressler, among others.
The theater became a movie palace in 1937 and, since 1997, has been a legitimate theater for Disney productions.
Header Photo
History
The New Amsterdam Theater opened in 1903. Productions by LGBT creators and with LGBT performers at the New Amsterdam included:
Her Own Way (1903) by Clyde Fitch
Beau Brummell (1904-07), by Clyde Fitch
The Merry Widow (1907-08), with costume design by Percy Anderson and others
Oliver Twist (1912, revival), with actor Constance Collier
Margaret Schiller (1916), with actor Gareth Hughes
Ziegfeld Follies of 1916 and 1917, with actor Lilyan Tashman
Ziegfeld Follies of 1918, with actors Bert Savoy & Jay Brennan, a vaudeville team
Monsieur Beauclaire (1919-20), with costume design by Percy Anderson
Ziegfeld Follies of 1923, with costume design by Erte and others
Ziegfeld Follies of 1925, with actor Peggy Fears
Sunny (1925-26), with actor Clifton Webb
Betsy (1926-27), with lyrics by Lorenz Hart
Earl Carroll's Vanities (1930-31), with costume design by Vincente Minnelli, and with actor Patsy Kelly
Murder at the Vanities (1933) by Earl Carroll and Rufus King
The Cherry Orchard (revival, 1933), with actors Eva Le Gallienne, Alla Nazimova, and Josephine Hutchinson
Revenge with Music (1934-35), with actor Libby Holman
At the New Amsterdam Rooftop, Marie Dressler appeared in The Boy and the Girl (1909), and Bert Savoy & Jay Brennan were in Ziegfeld Midnight Frolic (1919) and Ziegfeld Nine O'Clock Review (1919).
It became a movie palace in 1937. Since 1997, it has been a legitimate theater for Disney productions.
Entry by Jay Shockley, project director (June 2019, with multiple additions).
NOTE: Names above in bold indicate LGBT people.
Building Information
Architect or Builder: Herts & Tallant
Year Built: 1902-03
Sources
"The 1st List of: Gay/Lesbian/Bi Industry People, Both in Front and Behind the Camera," www.imdb.com, May 31, 2013.

Adam Hetrick, "The Work of Broadway's Gay and Lesbian Artistic Community Goes on Display Nov. 14 When the Leslie/Lohman Gay Art Foundation Gallery Presents 'StageStruck: The Magic of Theatre Design'," Playbill, November 14, 2007.

Internet Broadway Database.
Do you have more information about this site?
This project is enriched by your participation! Do you have your own images of this site? Or a story to share? Would you like to suggest a different historic site?