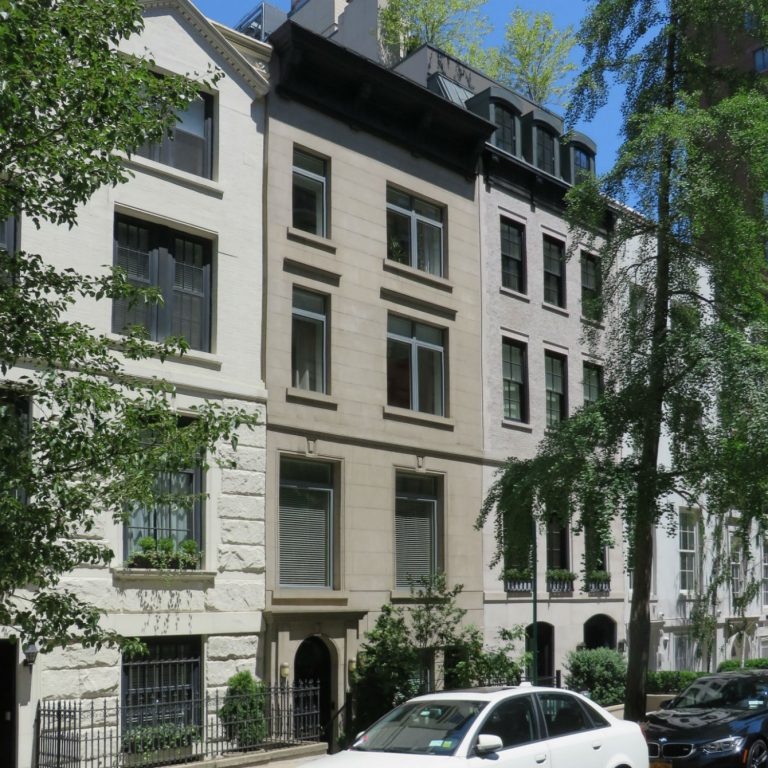 117 East 81st Street
Manhattan
Jerome Robbins Residence
overview
Jerome Robbins was a renowned Broadway choreographer of musicals such as West Side Story, Gypsy, and Fiddler on the Roof, and director and choreographer of some of the most popular ballets of the 20th century.
He purchased this house in 1966 and lived here until his death in 1998.
Header Photo
History
Jerome Robbins (1918-1998), one of the most influential choreographers for the Broadway stage and for American ballet, was born Jerome Wilson Rabinowitz at the Jewish Maternity Hospital (demolished) on the Lower East Side and grew up in Weehawken, New Jersey. He studied dance as a child and began dancing in the chorus of Broadway musicals in the late 1930s. In 1940, Robbins joined Ballet Theatre (later American Ballet Theatre; ABT), where his big break came in 1944 with the debut of his first ballet, Fancy Free, choreographed to a score by Leonard Bernstein, with a set by Oliver Smith. The story of three sailors on leave in New York during World War II, the ballet was loosely inspired by Paul Cadmus' painting The Fleet's In!
The success of Fancy Free led Robbins and Bernstein to team up with Betty Comden and Adolph Green for the creation of On the Town, a 1944 Broadway musical on the same theme (the role of Chip was played by actor and photographer Cris Alexander). He would go on to choreograph such hit musicals as High Button Shoes (1947), The King and I (1951), and Peter Pan (1954; television version, 1955).
In 1957, Robbins choreographed and directed what is considered one of the greatest of all Broadway musicals, West Side Story, which opened at the Winter Garden Theatre. This was followed by two additional hits, Gypsy (1959) and Fiddler on the Roof (1964), Robbins' final new work on Broadway. His Broadway career was summed up in Jerome Robbins Broadway, a compilation of many of his greatest dance numbers which opened on Broadway in 1989. According to Stephen Sondheim,
[Robbins] was the best stager of musical numbers – I think in my lifetime, anyway – in the Broadway theater.
In 1966, Robbins purchased the rowhouse at 117 East 81st Street, where he planned many of the ballets of his late career, often listening to recordings of the music and experimenting with steps in his living room. Following the success of Fancy Free, Robbins had continued to create ballets for ABT, New York City Ballet (NYCB), and his own company Ballets: USA, including works that are still regularly performed, such as Interplay (1942), Afternoon of a Faun (1953), his comic masterpiece The Concert (1956), N.Y. Export: Opus Jazz (1958), and Moves (1959), a ballet in silence. Following a hiatus from ballet, Robbins returned to NYCB in 1969, choreographing Dances at a Gathering, one of the most influential ballets of the post-war era, and a work known for its pioneering same-sex partnering. He went on to create such important dances as Goldberg Variations (1971), The Four Seasons (1979), and Glass Pieces (1983). A sense of community imbues most of his ballets and sets them apart from the work of other classical choreographers. Jean-Pierre Frolich, a New York City Ballet balletmaster, who danced in many Robbins ballets relates how:
[Robbins] takes things from outside that you see in the street, or what he experiences when he travels, and the aspect of people in a village or a community and always creates some sort of a story.
In the course of his career, Robbins won five Tony Awards, two Oscars, an Emmy, two Dance Magazine Awards, the Astaire Award for Lifetime Achievement in Dance, the Handel Medallion of the City of New York, was the recipient of a Kennedy Center Honor, and received the National Medal of the Arts.
For much of his life, Robbins was conflicted about his homosexuality and he had relationships with both men and women. His first long-term gay relationship was with Montgomery Clift in the late 1940s when Clift was a young actor on Broadway (this was ended by Clift when he received a Hollywood contract). He also had relationships with dancer Buzz Miller (Miller created one of the lead roles in the famous" Steam Heat" number from Pajama Game), composer Ned Rorem, dancer Tommy Abbott (one of the Jets in West Side Story), photographer Jesse Gerstein (during Gerstein's last years before dying of AIDS-related complications in 1991, Robbins cared for him at his 81st Street house), and others.
Entry by Andrew S. Dolkart, project director (July 2018).
NOTE: Names above in bold indicate LGBT people.
Building Information
Architect or Builder: Charles Buek & Co. (alteration architect unknown)
Year Built: 1886 (later altered) SOURCES
Sources
Amanda Vaill, Somewhere: The Life of Jerome Robbins (New York: Broadway Books, 2006).

Deborah Jowitt, Jerome Robbins: His Life, His Theater, His Dance (New York: Simon & Schuster, 2004). [source of pull quote, p. 243]

Greg Lawrence, Dance with Demons: The Life of Jerome Robbins ( New York: G.P. Putnam's Sons, 2001).
Do you have more information about this site?
This project is enriched by your participation! Do you have your own images of this site? Or a story to share? Would you like to suggest a different historic site?