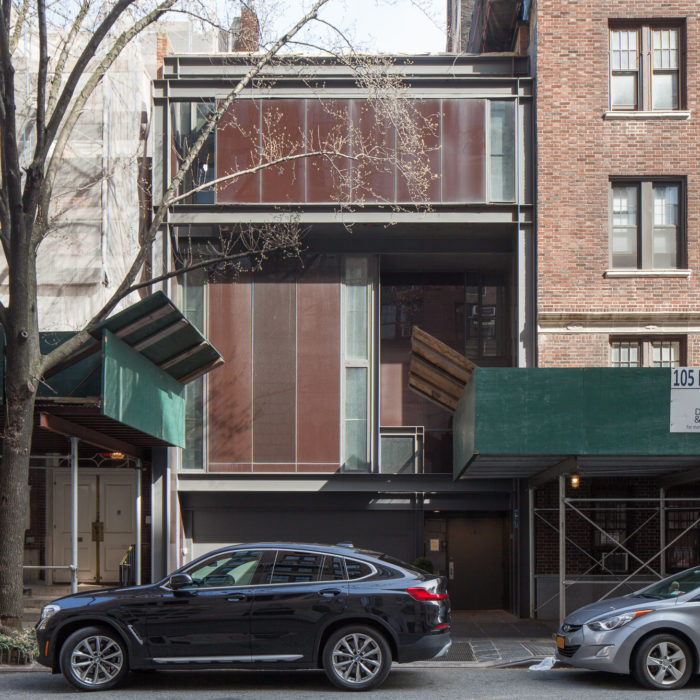 101 East 63rd Street
Manhattan
Hirsch Residence / Halston Residence
overview
In 1966, real estate lawyer Alexander Hirsch and his partner Lewis Turner commissioned architect Paul Rudolph to remodel their residence (a former 19th-century carriage house) and design a new facade.
The house is best known for its connection to Halston, the most famous designer in American fashion during the 1970s, who lived here from 1974 to 1989.
Header Photo
History
Hirsch Residence
In 1966, real estate lawyer Alexander Hirsch and his partner Lewis Turner commissioned renowned architect Paul Rudolph to remodel the interior of their home at 101 East 63rd Street — a former 19th-century carriage house — and design a new glass and concrete facade. The result, notes the Paul Rudolph Heritage Foundation, is an "unabashedly Modern design" that was rare for a townhouse (or rowhouse) in that neighborhood or the city as a whole at that time. The foundation also notes that the "sculpted" design was a precursor to the rooftop addition he added to his city residence at 23 Beekman Street, yet the interiors are based on "lab results" from his previous residential designs, notably at his house in New Haven, CT. The 63rd Street house is one of only three Manhattan residences designed by Rudolph.
Halston Residence
Hailed as America's first superstar fashion designer, Halston (1932-1990) was born Roy Halston Frowick in Des Moines, Iowa, and worked as a milliner in Chicago. He moved to New York City in 1958. Halston's career took off when, as lead milliner at Bergdorf Goodman, his now-iconic pillbox hat was worn by First Lady Jacqueline Kennedy to her husband's 1961 presidential inauguration. In the mid-1960s, Halston began designing couture and ready-to-wear women's apparel and started his own label. He opened a salon at 813 Madison Avenue in 1968 before moving to the 21st floor of the Olympic Tower, at 645 Fifth Avenue, in 1978. By then, the internationally recognized Halston had redefined American fashion as its first minimalist designer, creating chic yet comfortable women's clothing that evoked a glamorous city lifestyle. His celebrity clientele included Elizabeth Taylor, Bianca Jagger, Marlene Dietrich, Lauren Bacall, and his best friend Liza Minnelli. Halston won the prestigious Coty Award four times.
The '70s belonged to Halston …. By combining clean lines and classic fabrics, Halston designed clothing that was seasonless, made for travel and looked elegant night or day. It is no surprise that many members of the burgeoning 'jet set' became his most celebrated clients.
Halston's work was further inspired by his affinity for New York City nightlife, most notably at Studio 54, where he was regularly photographed with close friends, such as Minnelli, Jagger, Taylor, and Andy Warhol. His halter dress design became a staple of the disco era. Warhol considered Halston's fashion shows "the art form of the '70s." There and elsewhere, he pushed the industry forward by using racially diverse models and muses, known as the "Halstonettes." Though he remained principal designer after selling his company to Norton Simon in 1973, he gradually lost control of the label as it changed hands multiple times in the 1980s. Except for pieces he designed for a few friends, he stopped working altogether in 1984.
Halston's Upper East Side four-story townhouse at 101 East 63rd Street, which he bought in 1974 and became known as "101," was considered the clubhouse for the Studio 54 crowd, according to biographer Steven Gaines. Lavish and wild parties happened regularly, with Warhol, Truman Capote, and Steve Rubell among the notable gay guests. Halston had a penchant for call boys; one, Victor Hugo (his professional name), was "the person that Halston loved, more than his own life," said Perucho Valls, one of the designer's personal assistants.
In 1988, Halston was diagnosed with HIV. He sold his 63rd Street townhouse in January 1990 and moved to San Francisco, where he died, aged 57, of AIDS-related cancer. Halston's death forced the fashion industry to finally break its long silence over the devastating toll that HIV/AIDS was having on the fashion world.
In Halston, fashion found its Rock Hudson.
The epidemic's impact on the industry was covered in the next issues of Time and People magazines, with People putting Halston's image on its cover. Ten years after his death, Halston was commemorated with a Fashion Walk of Fame plaque on Seventh Avenue.
In 2019, fashion designer Tom Ford purchased the 101 East 63rd Street house.
Entry by Amanda Davis, project manager (June 2020).
NOTE: Names above in bold indicate LGBT people.
Building Information
Architect or Builder: Paul Rudolph
Year Built: 1966
Sources
Bernadine Morris, "Halston, Symbol of Fashion In America in 70's, Dies at 57," The New York Times, March 28, 1990, 1. [source of Warhol quote]

Christopher Cameron, "Nobody Wants to Buy This Fashion Designer's Legendary Party Pad," The New York Post, July 8, 2018, bit.ly/3haQXce.

David Hay, "Halston's Old House," New York Magazine, September 29, 2005, nym.ag/2AyiF2j.

Gary Kramer, "Halston Doc is a Fabulous Portrait of the Famed Designer," Philadelphia Gay News, May 29, 2019, bit.ly/2AXHZOQ.

"Halston," plaque, Fashion Walk of Fame. [source of Fashion Walk of Fame pull quote]

"Hirsch Residence," Paul Rudolph Heritage Foundation, bit.ly/37noHi6. [source of Paul Rudolph Heritage Foundation quote]

Kimberly Chrisman-Campbell, "The Day AIDS Hit the Fashion Industry," The Atlantic, April 24, 2015, bit.ly/3cQkO6q. [source of Chrisman-Campbell quote]

Layla Ilchi, "How Halston Became One of America's Most Iconic Fashion Designers," Women's Wear Daily, July 25, 2019, bit.ly/2YoLx58.

Steven Gaines, "The Man Who Sold His Name," Vanity Fair, June 26, 2014, bit.ly/3fguatS. [source of Valls quote]

Steven Gaines, Simply Halston: The Untold Story (New York: G.P. Putnam's Sons, 1991).
Do you have more information about this site?
This project is enriched by your participation! Do you have your own images of this site? Or a story to share? Would you like to suggest a different historic site?