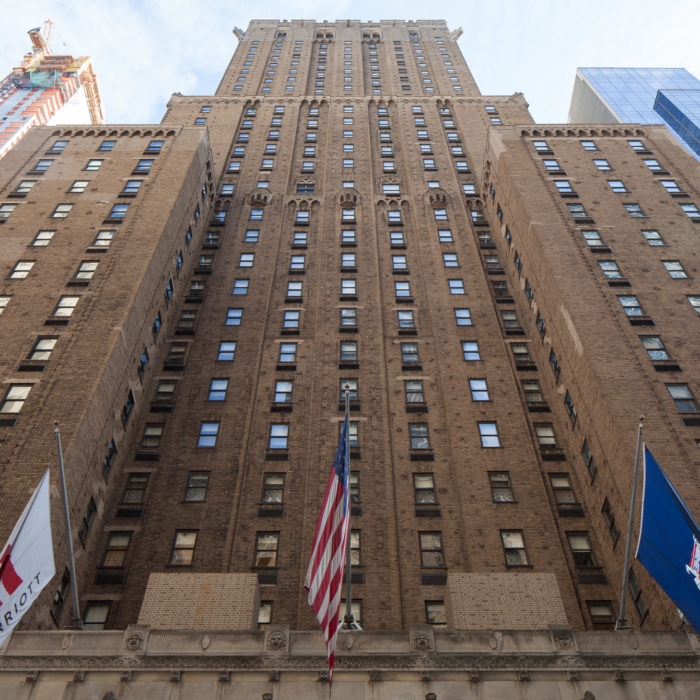 525 Lexington Avenue
Manhattan
Georgia O'Keeffe Residence at the Hotel Shelton
the Hotel Shelton later became the New York Marriott East Side Hotel
overview
The artist and painter Georgia O'Keeffe lived and worked in suite 3003 at this hotel from 1925 to 1936.
She featured the building, as well as the view from her suite, in several of her paintings made between 1925 and 1929.
Header Photo
History
Georgia O'Keeffe (1887-1986) was an influential American painter best known for her modernist depictions of flowers and landscapes. O'Keeffe began to gain widespread recognition for her work in 1916, after creating a series of abstract charcoal drawings. She mailed them to her friend (and likely lover) Rebecca "Beck" Strand in New York City, who then showed them to the well-known photographer and art dealer Alfred Stieglitz. He exhibited the work without O'Keeffe's knowledge, though she eventually agreed to allow the exhibition to continue. Stieglitz and O'Keeffe were married in 1924, though O'Keeffe also had relationships with women throughout her lifetime.
O'Keeffe and Stieglitz moved into the Shelton Hotel in 1925, shortly after it opened as the tallest hotel in the world. The couple first moved into a two-room suite on the 28th floor, and soon thereafter moved to suite 3003 on the 30th floor that included her studio. It was there that she produced the majority of her work from 1925 to 1929. The location factored heavily into O'Keeffe's art, and she painted the Shelton Hotel several times, including in The Shelton with Sunspots, N.Y. (1926). Many of her iconic New York skyscraper paintings capture the view of the city from her suite.
I know it's unusual for an artist to want to work way up near the roof of a big hotel, in the heart of a roaring city, but I think that's just what the artist of today needs for stimulus. He has to have a place where he can behold the city as a unit before his eyes but at the same time have enough space left to work…
Though O'Keeffe said that "Today the city is something bigger, grander, more complex than ever before in history. There is a meaning in its strong warm grip we are all trying to grasp. And nothing can be gained by running away. I wouldn't if I could.", she began visiting northern New Mexico in 1929. Her trip was prompted at least in part by Stieglitz's overbearing nature and recent affairs. She traveled with Strand, and they met up with the arts patron Mabel Dodge Luhan. Historians have suggested that O'Keeffe may have had affairs with both women, as well as with other artists including Frida Kahlo. The desert landscape inspired many of her famous works, and in 1939 she moved permanently from New York to her house near Abiquiú, New Mexico. O'Keeffe continued to live in the region until her death in 1986 at the age of 98.
Other LGBT History at the Shelton
Another notable LGBT resident of the Shelton Hotel included the famous playwright Tennessee Williams, who was here in at least 1945. The Shelton Corner bar, pool, restrooms, sauna and locker rooms served as popular cruising spots for gay men from the 1940s to the 1970s. The Shelton was featured in gay guides such as Gaedicker's Sodom-On-Hudson (1949), the first guidebook to gay life in New York. The Gay Insider later referred to the Shelton's gymnasium as "Pick-up heaven."
Entry by Sarah Sargent, project consultant (November 2019).
NOTE: Names above in bold indicate LGBT people.
Building Information
Architect or Builder: Arthur L. Harrison Year Built: 1922-23
Year Built: 1922-23
Sources
"About Georgia O'Keeffe," The O'Keeffe Museum, n.d.,bit.ly/2NOCXKV.

Alastair Sooke, "How Georgia O'Keeffe left her cheating husband for a mountain: 'God told me if I painted it enough, I could have it,'" The Telegraph, 2016, bit.ly/30uLBiU.

"East River from the Shelton Hotel," The Metropolitan Museum of Art, n.d., bit.ly/2LnNKd1.

Hugh Hagius, Swasarnt Nerf's Gay Guides for 1949: NYC, USA, World (New York: Bibliogay, 2004)

Lisa Mintz Messinger, New Britain Museum of American Art, n.d, bit.ly/32maC1x. [Source of pull quote]

National Park Service, "Georgia O'Keeffe Home and Studio," 2018, bit.ly/2NLdDVU.
Do you have more information about this site?
This project is enriched by your participation! Do you have your own images of this site? Or a story to share? Would you like to suggest a different historic site?