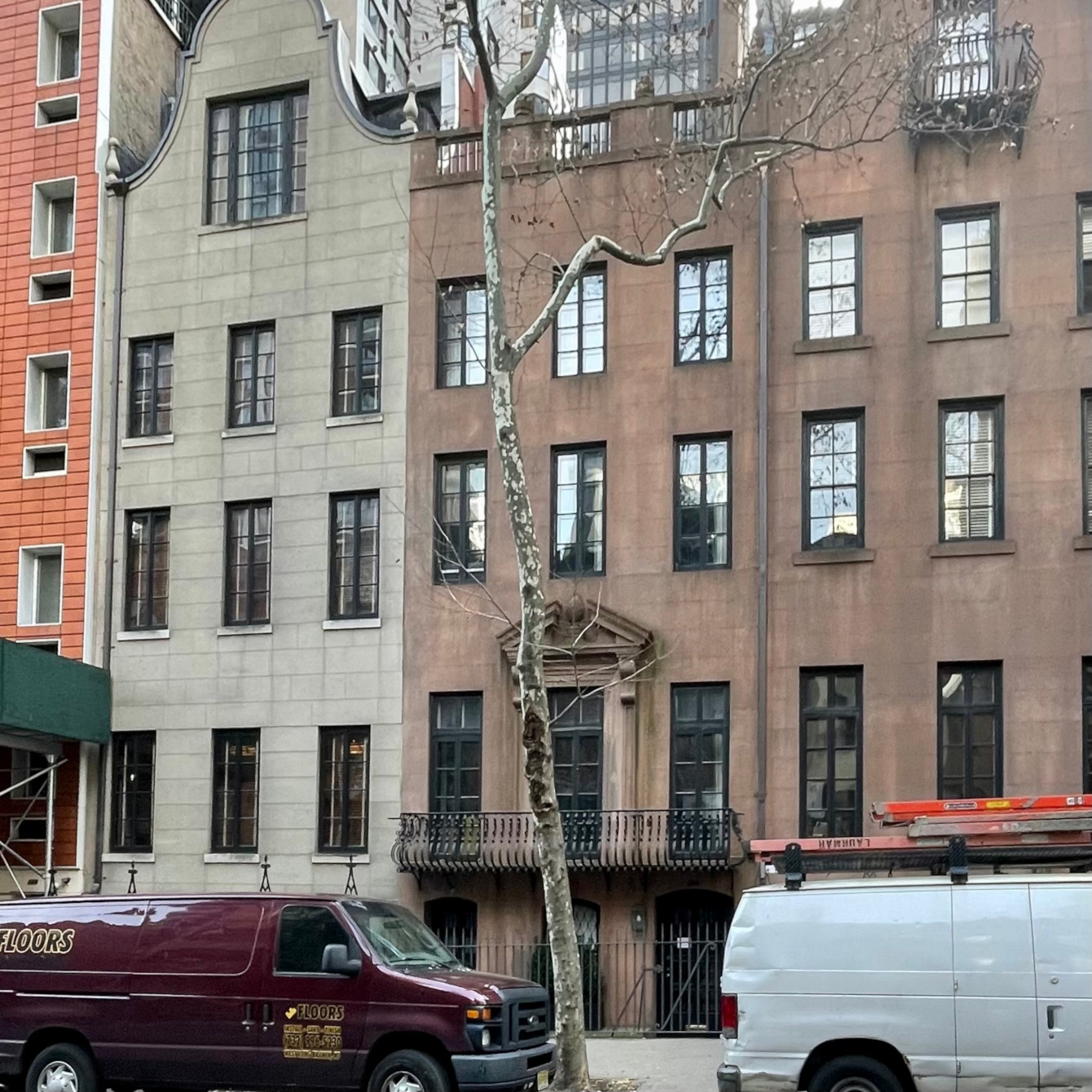 244 East 49th Street
Manhattan
Katharine Hepburn Residence
overview
Iconic movie star Katharine Hepburn owned this Turtle Bay Gardens rowhouse from 1931, a year before her breakthrough performances on Broadway and in Hollywood, until her death in 2003.
The Academy Award-winning actress, famous for wearing pants in an era when most women did not, carefully crafted her public image to conceal her sexuality; throughout her life and after, writers have speculated on whether she was asexual, bisexual, or lesbian.
Header Photo
History
Screen legend Katharine Hepburn (1907-2003) was born in Hartford, Connecticut, to prominent progressive-minded parents who encouraged their children to be independent and speak their minds. As a child, Hepburn attended several suffragist demonstrations with her mother, who was the director of the Connecticut Woman Suffrage Association and a strong advocate of birth control. Hepburn later recalled a childhood in which she wore her hair short and wished she was a boy because she felt boys "had all the fun."
In 1928, Hepburn made her Broadway theater debut to little success. However, a year after she and her then-husband bought the rowhouse at 244 East 49th Street in 1931, she caught the attention of Hollywood with her lead performance in the play The Warrior's Husband (1932) at the Morosco Theater (demolished). As a result, she landed a starring role in the George Cukor-directed film A Bill of Divorcement (1932). Hepburn went on to become a major movie star and an icon of Hollywood's Golden Age, though she retained her New York City residence. While best remembered for her film roles, she appeared in 13 Broadway theater productions from 1928 to 1982, with her biggest success being The Philadelphia Story (1939-40) at the Shubert Theater. She starred in the 1940 film of the same name and was nominated for an Academy Award for Best Actress, the third of an impressive 12 nominations that she received during her long career. She won four Oscars — still the most of any performer — for Morning Glory (1933), Guess Who's Coming to Dinner (1967), The Lion in Winter (1968), and On Golden Pond (1981).
Hepburn was sometimes criticized as too mannish in her early work on stage, but her distinct presence, strong-willed characters, and avant-garde preference for wearing pants in the 1930s inspired generations of women. Hepburn may have had relationships with men, but her famous supposed relationship with actor Spencer Tracy has been called platonic by some recent biographers. She carefully crafted her public image to conceal her sexuality, and writers have continually speculated on whether she was asexual, bisexual, or lesbian. She had many close lifelong friendships, or relationships, with unmarried women and lesbians. Her sexuality has been widely discussed by, among others, friend and columnist Liz Smith, who confirmed that Hepburn had lesbian relationships, and authors James Robert Parish in Katharine Hepburn: The Untold Story (2005), William J. Mann in Kate: The Woman Who Was Hepburn (2007), and Scotty Bowers in Full Service (2012). In perhaps an attempt to further conceal her sexuality, Hepburn, in her later years, had a reputation for making homophobic comments.
By the 1960s, Hepburn had mostly retired to her 49th Street residence, one of 20 rowhouses – collectively known as Turtle Bay Gardens – that share a community garden in the middle of the block. She had a few memorable exchanges with her neighbor, composer Stephen Sondheim, including a time when she knocked on his door complaining his music playing was keeping her awake. She also had a particular fondness for fireplaces, bringing chopped wood from her Connecticut weekend home to her Manhattan residence.
Either you're a fireplace person or you're not and I've never trusted anyone who wasn't. Stephen Sondheim, who lives next door to me, complains because the smoke gets into his living room. A most disagreeable man. I don't think he's a fireplace person.
Among many other accolades, Hepburn received the Kennedy Center Honors for lifetime achievement in the arts in 1990. She owned her New York City residence for over 70 years, until her death in 2003. To commemorate her longtime association with the area, Katharine Hepburn Garden was planted and dedicated on the south side of nearby Dag Hammarskjöld Plaza in 1997 and her 49th Street block was co-named "Katharine Hepburn Place" in her memory in 2003.
Entry by Amanda Davis, project manager (March 2022).
NOTE: Names above in bold indicate LGBT people.
Building Information
Architect or Builder: unknown; Clarence Dean (renovation)
Year Built: 1860s; 1918-20 (renovation)
Sources
Caryn James, "Katharine Hepburn, Spirited Actress, Dies at 96," The New York Times, June 29, 2003, nyti.ms/3shHrMb.

Geraldine Baum, "From the Archives: Classy Film Feminist Had Brains, Beauty, That Voice," Los Angeles Times, June 30, 2003, lat.ms/3vpyUZu.

James Robert Parish, Katharine Hepburn: The Untold Story (New York: Alyson Publications, 2005).

"Katharine Hepburn," Britannica, bit.ly/3JUIojg.

"Katharine Hepburn," Internet Broadway Database, bit.ly/3BNIAy4.

"Katharine Hepburn Garden," NYC Department of Parks and Recreation, on.nyc.gov/2XH5pnl.

Marcie Bianco and Merryn Johns, "The Most Daring Thing About Katharine Hepburn? Her Pants," Vanity Fair, May 12, 2016, bit.ly/35mxDYb.

Rex Reed, "Katharine Hepburn: She Gave Full Value, Tolerated No Nonsense," Observer, July 7, 2003, bit.ly/3LXeHAa. [source of pull quote]

Scotty Bowers, Full Service: My Adventures in Hollywood and the Secret Sex Lives of the Stars (New York: Grove Press, 2012).

Tavo Amador, "Was Katharine Hepburn Bisexual?," Bay Area Reporter, November 22, 2005.

"Tribute to Katharine Hepburn," Larry King Live, June 30, 2003, cnn.it/3BQcgdO.

William J. Mann, Kate: The Woman Who Was Hepburn (New York: Picador, 2007).
Do you have more information about this site?
This project is enriched by your participation! Do you have your own images of this site? Or a story to share? Would you like to suggest a different historic site?