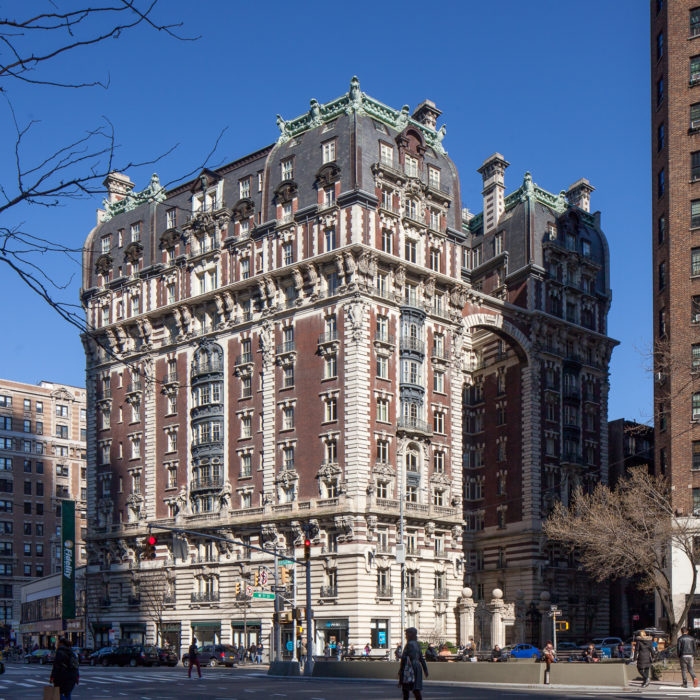 2068 Broadway
Manhattan
Fifth Avenue Bar
also known as the Fifth Avenue Bar in the Stanwood Cafeteria at the Dorilton Apartments
overview
The Fifth Avenue Bar, located in the Stanwood Cafeteria, operated in the Dorilton Apartments from c. 1940 to 1956.
A 1953 New York court decision, regarding the revoking of the liquor license of this Upper West Side bar, attempted to reign in the State Liquor Authority's actions without sufficient evidence.
Header Photo
History
George Chauncey, in Gay New York, described a 1953 court decision, involving the Fifth Avenue Bar in the Stanwood Cafeteria, that officially began to limit the New York State Liquor Authority (SLA)'s power to revoke the liquor licenses of premises that gay men and lesbians frequented, which it considered de facto "disorderly." The SLA had been wielding this power since it was established in 1934 by the State Legislature at the end of Prohibition.
According to Chauncey,
[The Fifth Avenue Bar was] well known among white working-class gay men as a rendezvous for 'painted queens' from the Upper West Side, Brooklyn, and the Bronx, some of them effeminate prostitutes there along with their johns.
Gaedicker's 1949 "Sodom-on-Hudson" guide stated that "for the upper west side, the Stanwood Cafeteria… occasionally flourishes, especially near bar-closing time." Located near the busy intersection of Broadway and West 72nd Street, the cafeteria and bar extended along the Broadway frontage of the Dorilton Apartments, with clear visibility from the street through large windows. One of the largest establishments on the Upper West Side, it could accommodate 350 to 400 people. It apparently opened around 1940, primarily as a restaurant, and reportedly made about twenty percent of its business from the bar.
The SLA, at the time avidly closing bars associated with the gay and lesbian community, revoked the bar's license based on a plainclothes policeman's observations for half an hour during the early morning hours of February 4, 1953. He reported about fifteen men acting in a "female way," some grabbing each other "indecently," and accused one man of making an "indecent proposal" to him. The bar owners contested. The court was leery of the SLA's action, given the "excellent reputation" of the cafeteria and the financial investment it represented (approximately a quarter of a million dollars), and it rebuked the SLA on its inadequate evidence. Its 1953 decision in Stanwood United v. O'Connell officially limited the SLA's definition of a "disorderly" bar. In the future, the SLA was required to prove that the gay men or lesbians present in a bar had engaged in conduct that was actually disorderly (not simply their presence), and that the establishment had acquiesced in that behavior. This court decision was cited in many subsequent cases, but in reality, the SLA and the police mostly ignored it, and harassment of establishments attracting a gay clientele continued for another two decades.
New owners of the Dorilton Apartments building closed the cafeteria and bar in 1956.
Building Information
Architect or Builder: Janes & Leo
Year Built: 1900-02
Sources
Appellate Division of the Supreme Court of New York, First Department, Matter of Stanwood United v. O'Connell (December 15, 1953).

"Buyers to Modernize Broadway Apartment," The New York Times, August 10, 1956, 28.

Gaedicker's "Sodom-on-Hudson" guide (Spring 1949), 26.

George Chauncey, Gay New York: Gender, Urban Culture, and the Making of the Gay Male World, 1890-1940 (New York: Basic Books, 1994), 342-345. [source of pull quote, 342]