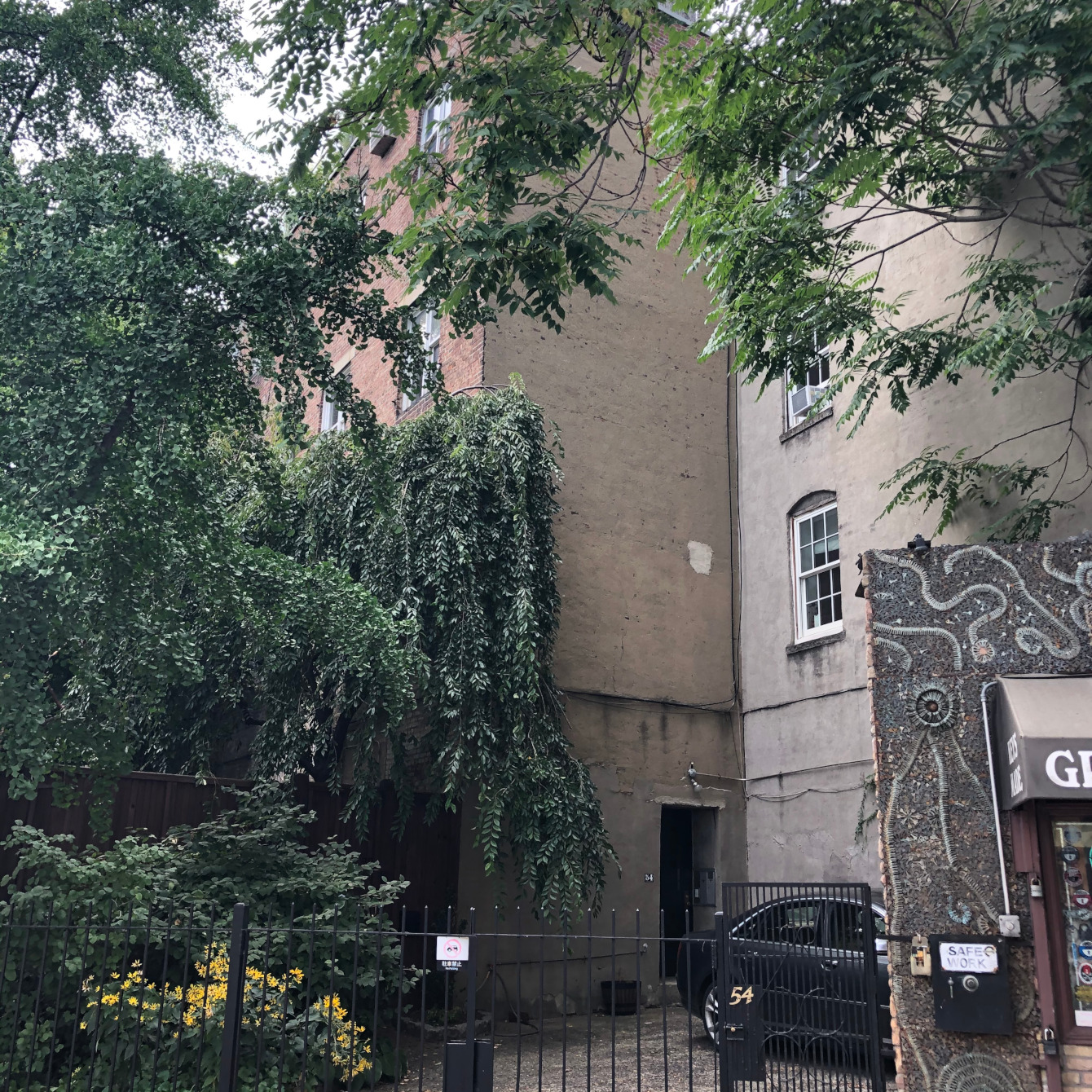 54 Seventh Avenue South
Manhattan
Women's Coffeehouse
overview
Open from 1974 to 1978 in Greenwich Village, the Women's Coffeehouse was a popular and important social gathering and activist space for New York-based lesbians.
This lesbian-owned coffeehouse held live entertainment, serving as an alternative social space to Mafia-run bars, and hosted political gatherings and discussions on feminist and lesbian issues.
Header Photo
History
Founded by Judy O'Neil and Shari Thaler, the Women's Coffeehouse opened in November 1974 as one of the most popular social sites in a wave of women's sites serving New York's lesbian feminist population in Greenwich Village, including Labyris, Djuna Books, and Mother Courage. O'Neil, a research biologist, was looking to change careers to "put her energies into more woman-oriented work" and Thaler had been inspired by Full Moon, a women's coffeehouse in San Francisco. The Coffeehouse was located on the ground floor of 54 Seventh Avenue South, which was owned by June Arnold and Parke Bowman, a couple who founded Daughters Publishing Company (No. 54, a 19th-century back building for 70 Bedford Street, was later exposed when Seventh Avenue South cut through the neighborhood in 1914).
O'Neil and Thaler received small loans from individual women and formed the Women's Coffeehouse Collective. Of the seven women in the Collective, six identified as lesbians. The Collective ensured that the Coffeehouse was entirely women-run and women-owned. Each member of the Collective staffed the Coffeehouse unpaid two nights a week, attended meetings, and helped with decision making. They also assisted with landscaping and kitchen renovations.
The Coffeehouse branded itself as women-only, predominantly serving the lesbian community. Lesbians flocked to the Coffeehouse to meet over coffee and sandwiches and to share ideas. It became a hub for lesbian political activism, hosting meetings of Dykes & Tykes, an organization that advocated for lesbian child custody rights; leading "speak outs" on issues including forced sterilization and matriarchy; and holding a benefit for Ginny Apuzzo's campaign to win Brooklyn's 57th State Assembly District race.
Open seven nights a week, the Coffeehouse hosted frequent entertainment by lesbian artists. After opening the garden space in front of the building, the Coffeehouse sat 120 women, plus room for more to stand. Musicians who performed here included Alix Dobkin, Diana Davies who was best known for her Stonewall-era photography, Rosemary Gaffney, and Kay Gardner. The space also showed lesbian feminist films, including a recording of It's All Right to be a Woman Theatre with a conversation with founder Sue Perlgut. Poetry and literature readings by artists such as Fran Winnat were common, and, according to Karla Jay, novelist Bertha Harris even lived above the Coffeehouse.
The Coffeehouse was an alternative social space to Mafia-run bars for lesbians. According to a feature in Dyke: A Quarterly, Thaler and O'Neil "felt it was absurd and sad that Lesbians would go from political meetings in which they were trying to change their lives and their environment to seedy, dimly lit bars, where they gave their money to men and the mafia." The Collective commented that the Coffeehouse "has not wooed away the real bar Dykes," but its late-night weekend entertainment and dance parties increased social opportunities for New York lesbians.
The Coffeehouse is the only women-owned, women-only, clean, brightly lit place where Lesbians can be together and have a good time. It is the only place in NYC where we can consistently see and create Lesbian culture.
Despite the Collective's best efforts, the Coffeehouse closed in September 1978 after Arnold and Parke sold the building. The Collective tried to find a new location for a reasonable price, but lack of sales and funds caused the Coffeehouse to disband like many other women's spaces in the 1970s. Yet, as discussed in Dyke: A Quarterly, the Coffeehouse affirmed the need for "spaces generated and sustained by local Lesbian communities."
Entry by Emily Kahn, project consultant (October 2020).
NOTE: Names above in bold indicate LGBT people.
Building Information
Architect or Builder: Julius Poerschel
Year Built: 1869
Sources
"Dykes & Tykes Demand Custody Rights," The Matriarchist 1, no. 2 (Spring 1978), 11.

Elizabeth Shanklin, "Trapped in Patriarchal Institutions: Capitalism Beats Feminism: The New York Women's Coffeehouse Needs a Home," The Matriarchist 1, no. 3 (Summer 1978), 8.

Karla Jay, phone call with Emily Kahn/NYC LGBT Historic Sites Project, June 17, 2020.

Penny House, "The New York Women's Coffee House," Dyke: A Quarterly, no. 1 (1975), 10-13.

Sandra Trimble, "Fifty-One Percent," Gaysweek, no. 65 (1978), 22

"Women's Coffeehouse, 1974-1978," organization files, Lesbian Herstory Archives.
Do you have more information about this site?
This project is enriched by your participation! Do you have your own images of this site? Or a story to share? Would you like to suggest a different historic site?