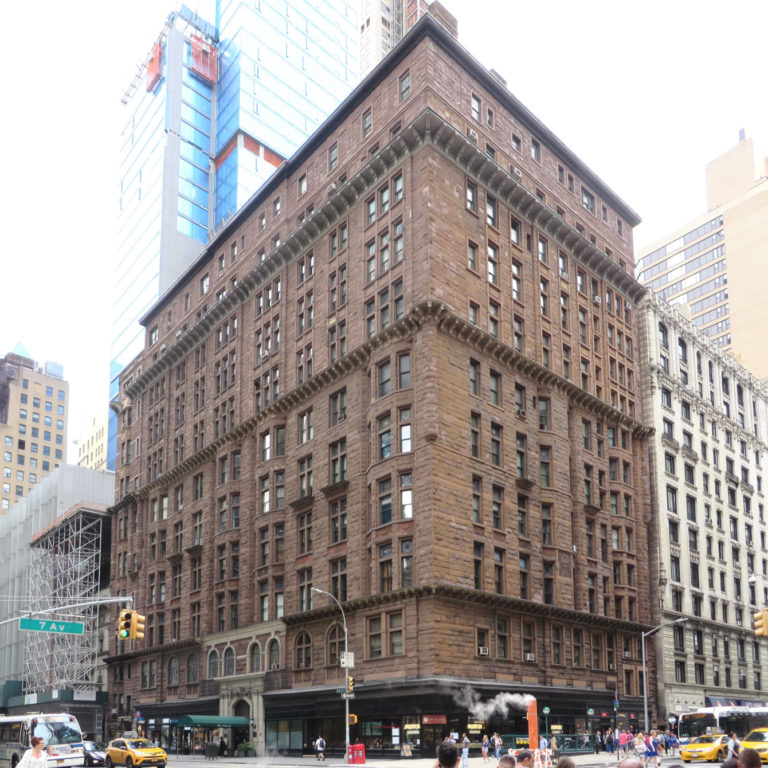 205 West 57th Street
Manhattan
Leonard Bernstein Residence at the Osborne Apartments
overview
Leonard Bernstein, perhaps the most influential figure in American classical music during the post-war era, lived in the Osborne Apartments from 1951 until c. 1960.
During this time he wrote the music for several seminal Broadway musicals, became a major symphonic conductor, and pioneered as a popular musical educator on television.
Conveniently located across from Carnegie Hall and near other cultural venues, the Osborne has long been a popular home for people in the arts, including several other LGBT notables.
Header Photo
History
The Osborne Apartments is one of the most significant early multiple dwellings designed to attract affluent tenants. The Italian-Renaissance-inspired building is constructed of rough-textured, red sandstone. Leonard Bernstein (1918-1990), the great American composer of classical and Broadway music, conductor, and educator, was born to Jewish immigrant parents in Lawrence, Massachusetts, and grew up in Boston. While studying music at Harvard, he met three of the musical figures who would have a great influence on his work and career – conductor Dimitri Mitropoulos and composers Aaron Copland (a life-long friend) and Marc Blitzstein. Bernstein had brief affairs with both Mitropoulos and Copland. In 1943, Bernstein became the assistant conductor of the Boston Symphony. On November 14 of that year, he was asked, on short notice, to conduct a matinee in place of the ailing Bruno Walter. The concert, which was heard around the country on radio, was a huge success and Bernstein became an immediate musical sensation. The next year, Bernstein composed the music for Jerome Robbins' ballet Fancy Free (1944), which he, Robbins, Betty Comden, and Adolph Green soon turned into the hit Broadway musical On the Town (1944).
In 1951, following a short affair with actor Farley Granger, Bernstein married Felicia Cohn Montealegre, who was aware of Bernstein's homosexuality. Shortly after the wedding, she wrote to her husband, stating "you are a homosexual and may never change – you don't admit to the possibility of a double life, but if your peace of mind, your health, your whole nervous system depend on a certain sexual pattern what can you do?" It has been suggested that Mitropolous told Bernstein that if he wished to become the music director of a prestigious orchestra he should marry. Bernstein had a loving relationship with his wife and their three children, but continued to have affairs with young men. As playwright Arthur Laurents observed,
[Bernstein was] a gay man who got married. He wasn't conflicted about it at all. He was just gay.
Shortly after their marriage, the Bernsteins moved into apartment 4B in the Osborne. Bernstein also rented a third-floor studio for his composing and other work. While living in the Osborne, Bernstein completed the scores for the Broadway musicals Wonderful Town (1953), Candide (1956), and West Side Story (1957), and the film On the Waterfront (1954). From 1954 to 1958, Bernstein hosted several episodes of Omnibus, a pioneering arts program on television, most famously in 1954 when he analyzed Beethoven's Fifth Symphony. In 1958, Bernstein was appointed music director of the New York Philharmonic – the first American to ever lead a major American orchestra. Shortly after this appointment, the Bernsteins moved to an apartment on Park Avenue and, later, into the Dakota Apartments on Central Park West.
Other LGBT Notables at the Osborne
Located diagonally across from Carnegie Hall, and convenient to the city's other cultural venues, the Osborne has long been a popular home for people in the arts. Other LGBT residents have included legendary cabaret artist Bobby Short (he lived in Bernstein's former apartment); pianist Van Cliburn, who won the inaugural International Tchaikovsky Piano Competition in Moscow in 1958, at the age of 23; actor and film historian Robert Osborne, best known for hosting prime-time films on Turner Classic Movies; Mark Bramble, who wrote the Tony-nominated books for the musicals Barnum (1980) and, with Michael Stewart, 42nd Street (1980); editor and writer Leo Lerman and his partner, artist Gary Foy; author Fran Lebowitz; and fashion designer Fernando Sanchez, best known for his provocative lingerie designs, including items worn by Madonna, Cher, Tina Turner, and Elizabeth Taylor.
Entry by Andrew S. Dolkart, project director (August 2018; last revised December 2022).
NOTE: Names above in bold indicate LGBT people.
Building Information
Architect or Builder: James E. Ware
Year Built: 1883-85
Sources
Charles Kaiser, The Gay Metropolis (Boston: Houghton Mifflin, 1997), 89. [source of Laurents pull quote]

David Ehrenstein, "The Trouble with Lenny," Gay City News, December 24, 2013.

Georg Predota, "Interlude: Leonard Bernstein and Felicia Montealegre: A Divided Life," Interlude, bit.ly/2w0Ifax.

Nigel Simeone, ed., The Leonard Bernstein Letters (New Haven: Yale University Press, 2013). [source of Montealegre quote]
Do you have more information about this site?
This project is enriched by your participation! Do you have your own images of this site? Or a story to share? Would you like to suggest a different historic site?