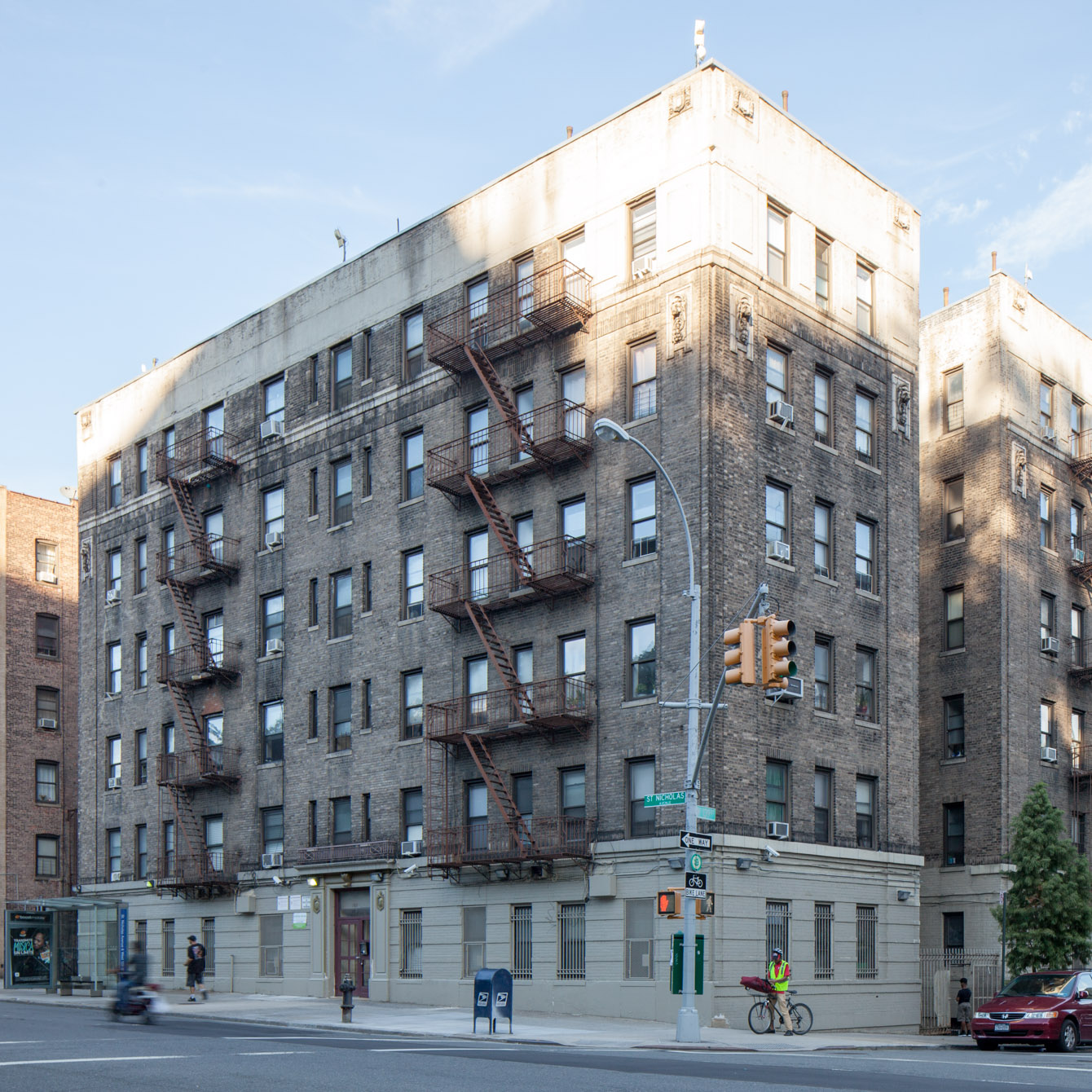 580 St. Nicholas Avenue
Manhattan
Ethel Waters Residence
overview
Legendary Black performer Ethel Waters lived in this apartment building from at least 1925 to 1927, when she was well known in Harlem's lesbian circles.
During this time, an important literary salon in the building hosted several notable gay figures of the Harlem Renaissance.
Header Photo
History
During an era of racial segregation, pioneering African-American singer and actress Ethel Waters (1896-1977) achieved stardom in theater, radio, movies, and television. Her career in New York began in 1919 when she moved to Harlem and performed at such popular venues as the Lafayette Theater (demolished) on West 132nd Street and the Lincoln Theater (façade since altered) at 58 West 135th Street.
By at least 1925, Waters was living in a seven-room apartment at 580 St. Nicholas Avenue in Harlem's Sugar Hill section. The building had become one of the neighborhood's most prestigious addresses for prominent African Americans around that time. First a blues singer, she recorded numerous hit songs during this time, including "Dinah" (1925), "I've Found a New Baby" (1926), and "Am I Blue?" (1927).
In 1925, Waters replaced popular Black star Florence Mills at the Plantation Club, a nightclub formerly part of Broadway's Winter Garden Theater. She made her Broadway debut in Africana (1927) at Daly's 63rd Street Theatre (demolished), which soon moved to the National Theatre (now Nederlander Theatre). Her performance in the short-lived revue caught the attention of lyricist Irving Berlin, who would later cast her as the only major Black performer in As Thousands Cheer, a huge Broadway hit in 1933. Berlin had also been impressed with her "Stormy Weather" act with Duke Ellington at the whites-only Cotton Club (demolished) in Harlem.
After Waters found success in Hollywood and her fame grew she never publicly acknowledged her homosexuality, likely because — as with other closeted stars then and to this day — she feared it would ruin her career. However, in the early 1920s, she lived with her girlfriend, dancer Ethel Williams, and was well known in Harlem's lesbian circles. Fellow entertainer Mabel Hampton called them "the two Ethels" and later recalled spending time with them and other lesbian blues singers in Harlem.
They were all in the life [gay]. I wouldn't have been meeting them if they hadn't!
Other known residences of Ethel Waters include 204 West 137th Street (by 1930), 352 West 115th Street (from around 1935 to at least 1940), and 190 New York Avenue in Crown Heights, Brooklyn (in the 1950s).
On St. Nicholas Avenue, Waters lived across the hall from an important literary salon led by influential 135th Street branch librarian Regina Anderson from 1924 to 1926 (though Waters did not attend). The salon, also known as "Dream Haven," hosted many artists, writers, and intellectuals of the Harlem Renaissance, including scholar Alain Locke and poets Langston Hughes and Countee Cullen. Carl Van Vechten, a white patron of the Harlem Renaissance, visited and reportedly based his controversial book Nigger Heaven on it. He was banned from the salon after its publication in 1926.
Entry by Amanda Davis, project manager (March 2017).
NOTE: Names above in bold indicate LGBT people.
Building Information
Architect or Builder: Robert T. Lyons
Year Built: 1913
Sources
Cary D. Wintz and Paul Finkelman, eds., Encyclopedia of the Harlem Renaissance (New York: Routledge, 2004).

Donald Bogle, Heat Wave: The Life and Career of Ethel Waters (New York: HarperCollins, 2011).

"Display Ad 49 – No Title," The New York Times, July 26, 1914, p. RD8.

Emily Bernard, Carl Van Vechten and the Harlem Renaissance: A Portrait in Black and White (New Haven, CT: Yale University Press, 2012).

Ethel Waters with Charles Samuels, His Eye on the Sparrow (New York: Da Capo Press, 1992).

New York State Census (1925) and United States Census (1930 and 1940).

Stephen Bourne, Ethel Waters: Stormy Weather (Lanham, MD: Scarecrow Press, 2007).
Do you have more information about this site?
This project is enriched by your participation! Do you have your own images of this site? Or a story to share? Would you like to suggest a different historic site?