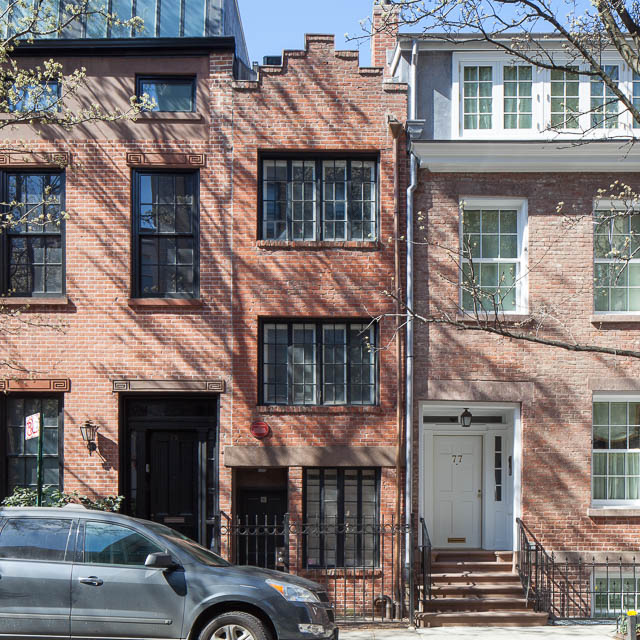 75 1/2 Bedford Street
Manhattan
Edna St. Vincent Millay Residence
overview
Openly bisexual poet Edna St. Vincent Millay lived in this narrow house from the fall of 1923 to the spring of 1925.
Millay, considered one of the most significant writers of 20th-century literature, was a central figure in Bohemian Greenwich Village and a symbol of the modern, liberated woman of the 1920s.
Header Photo
History
Poet Edna St. Vincent Millay (1892-1950) and her husband Eugen Jan Boissevain moved into this narrow house as newlyweds in the fall of 1923. (Millay's middle name derives from St. Vincent's Hospital, where her uncle's life was saved before her birth.) The four 19th-century buildings at 73 to 77 Bedford Street, which includes this home, were redesigned by architect Ferdinand Savignano that year for a group of artists, writers, and actors. The short stoops of all of these homes were removed and front doors were added in the rear, which opened onto a common garden accessed via a narrow alley from Commerce Street (the front stoops have since been reconstructed). At that time, the stepped parapet was added and casement windows were cut into all the windows of what would become Millay's home.
Before moving to Bedford Street, the openly bisexual Millay had already established herself as a central figure in Bohemian Greenwich Village. Known to her friends as "Vincent," Millay was an early member of the Provincetown Players, a theater group that performed in playhouses at No. 139 and then 133 MacDougal Street (both demolished), just south of Washington Square Park. During these years two of her residences included 139 Waverly Place and 25 Charlton Street, both of which are still standing.
Contrary to popular belief, Millay appears to have no direct connection in founding the Cherry Lane Theatre around the corner from this home, though her colleagues from the Provincetown Players did. (Holly Peppe, Millay's Literary Executor, confirmed that no known Millay/Cherry Lane evidence exists in an email exchange with the NYC LGBT Historic Sites Project.)
In the immediate post-World War I era…when the Village served as an incubator of every important American literary, artistic, and political movement of the period. … Millay's work and life came to represent the modern, liberated woman of the Jazz age, free of the restrictions of the past.
In spring 1923, Millay became the third woman to receive the Pulitzer Prize for poetry for The Ballad of the Harp-Weaver. (A plaque on the Bedford Street house incorrectly states that she wrote the poem here. She wrote it in 1922 while in Europe.) Later in October, she had her collection The Harp-Weaver, and Other Poems (1923) published. The following year, Millay garnered media attention and fame with her successful reading tour of the western United States, one of many in her career.
In May 1925, Millay and her husband left Bedford Street for Steepletop, their longtime home in Austerlitz, New York.
According to the Poetry Foundation, Millay "was known for her riveting readings and performances, her progressive political stances, frank portrayal of both hetero and homosexuality, and, above all, her embodiment and description of new kinds of female experience and expression." It continued, "By the 1960s the Modernism espoused by T. S. Eliot, Ezra Pound, William Carlos Williams, and W. H. Auden had assumed great importance, and the romantic poetry of Millay and the other women poets of her generation was largely ignored. But the growing spread of feminism eventually revived an interest in her writings, and she regained recognition as a highly gifted writer—one who created many fine poems and spoke her mind freely in the best American tradition, upholding freedom and individualism; championing radical, idealistic humanist tenets; and holding broad sympathies and a deep reverence for life."
Entry by Amanda Davis, project manager (March 2017).
NOTE: Names above in bold indicate LGBT people.
Building Information
Architect or Builder: Unknown; Ferdinand Savignano (redesign)
Year Built: 1873; 1923 (redesign)
Sources
Andrew S. Dolkart, The Row House Reborn: Architecture and Neighborhoods in New York City, 1908-1929 (Baltimore: Johns Hopkins University Press, 2009).

Christopher Gray, "For Rent: 3-Floor House, 9 ½ Ft. Wide, $6,000 A Month," The New York Times, November 10, 1996.

"Edna St. Vincent Millay," Poetry Foundation, bit.ly/2eZcJlS.

E-mails from Mark O'Berski, Vice President of the Edna St. Vincent Millay Society, and Holly Peppe, Edna St. Vincent Millay's Literary Executor, to Amanda Davis.

Nancy Milford, Savage Beauty: The Life of Edna St. Vincent Millay (New York: Random House, 2001).
Do you have more information about this site?
This project is enriched by your participation! Do you have your own images of this site? Or a story to share? Would you like to suggest a different historic site?